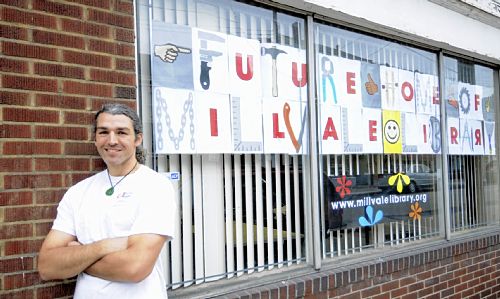 (Brian Wolovich, pictured outside the future Millvale Library location. Picture taken from 2009 article of Post-Gazette)
QVMS sixth grade teacher, Brian Wolovich, is a 2012 winner of The Jefferson Awards for Public Service and is now a finalist for the Most Outstanding Volunteer title.
The Jefferson Awards, which started nationally more than 30 years ago, are considered the Nobel Prize of volunteering.
We are particularly proud to congratulate Mr. Wolovich, not just because of the great teaching that he provides for Quaker Valley's sixth graders, but also because Laughlin's Executive Director, Doug Florey, was Mr. Wolovich's academic advisor as he completed his teaching degree at the University of Pittsburgh!
Wolovich's nomination comes from many years of hard work that he has put toward opening Millvale community's first public library - a dream that will finally come to fruition this June!
The Jefferson Awards ceremony will take place from 7 - 8:30pm on April 29th at the Carnegie Music Hall in Oakland. The Most Outstanding Volunteer will be announced at the ceremony that is free and open to the public. The winner will represent Western PA at the National Jefferson Awards ceremony in Washington DC, this summer. Local Pittsburgh businesses and corporations will also provide $1,000 to each finalist to go toward his or her given charity.
Look for Mr. Wolovich's published profile in the Post-Gazette on April 21st! To read the complete story from the Post-Gazette, click here!
Job well done, Mr. Wolovich! You have set a wonderful example and deserve this honor for
your dedication to literacy and community involvement.